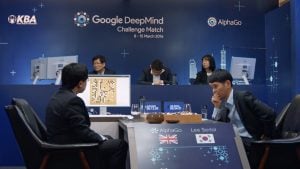 Tonight's viewers of AlphaGo will get the opportunity to learn more on the research and application of artificial intelligence (AI) happening today, here at Michigan Tech and beyond. A panel discussion with Dr. Timothy Havens (ECE/CS), Dr. Laura Brown (CS), Dr. Steven Goldsmith (MEEM/ECE), Dr. Scott Marratto (HU), and Josh Manela (ECE alumnus) of Ford subsidiary Argo AI will follow the screening.
AlphaGo: 7:30 p.m. Friday, November 3, Rozsa Center for the Performing Arts
AlphaGo is featured in this year's 41 North Film Festival hosted by the Rozsa Center for the Performing Arts. Directed by Greg Kohs, the documentary chronicles a journey from the halls of Cambridge, through the backstreets of Bordeaux, past the coding terminals of DeepMind in London, and, ultimately, to the seven-day tournament in Seoul. As the drama unfolds, more questions emerge: What can artificial intelligence reveal about a 3000-year-old game? What can it teach us about humanity?