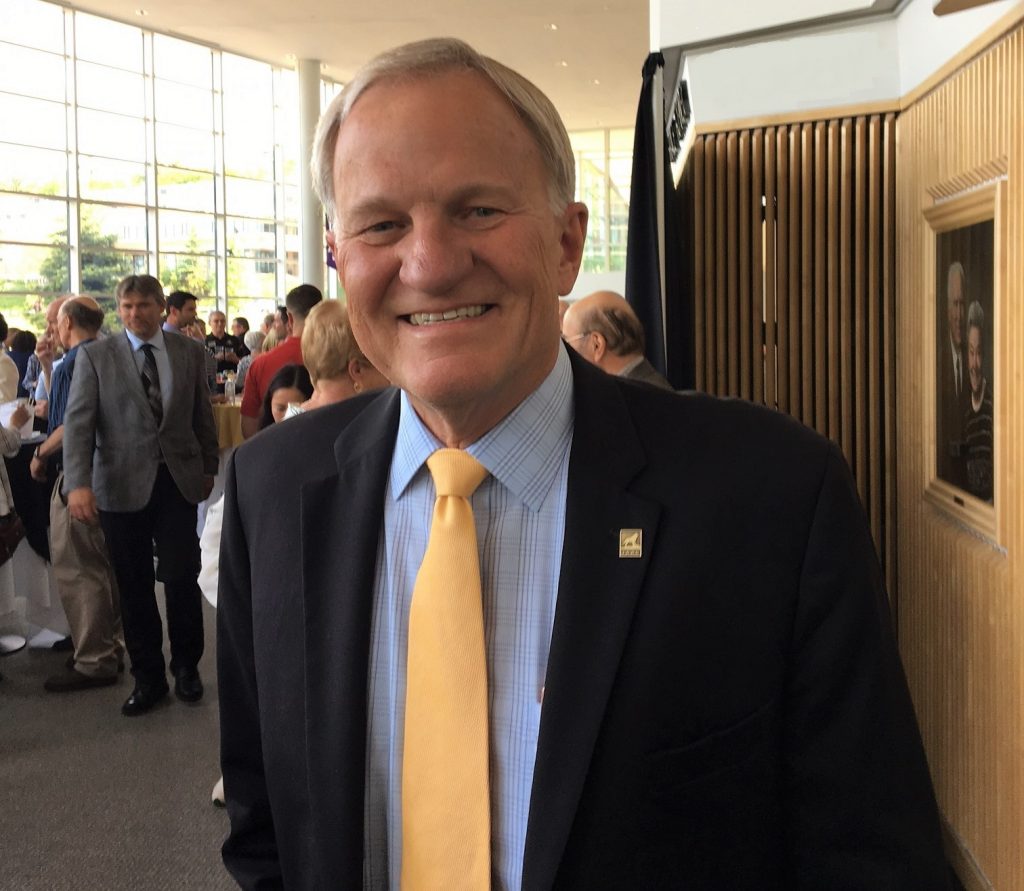 In just two short weeks, on July 1, 2018, we are going to see a major changing of the guard here at Michigan Tech. Glenn Mroz, university president for the past 14 years, will be returning to the faculty and Dr. Richard Koubek will be stepping in to take over as the chief executive officer. Simultaneously, four other individuals are moving into leadership positions: Dr. Janet Callahan, Dean of the College of Engineering; Dr. David Hemmer, Dean of the College of Sciences and Arts; Dr. Adrienne Minerick, Dean of the School of Technology; and Dr. Andrew Storer, Dean of the College of Forest Resources and Environmental Science. Drs. Callahan and Hemmer are joining Michigan Tech from outside, and Drs. Minerick and Storer are long-time Michigan Tech faculty members.
It is an exciting time, to be sure, a mix of optimism and nervous anticipation. Actually, the campus has been pretty quiet this June. Maybe it's because of the beautiful weather and long days, or people are using up some vacation time before the big transition.
A week ago Thursday we held a big university-wide party in the lobby of the Rozsa Center, to recognize and thank Glenn and his wife Gail for all that they have done for the university. There was a great turnout, including members of the Board of Trustees from out of town, along with a pre-recorded video message from Sen. Debbie Stabenow. Dining Services pulled out all the stops with their food and drink, and music from guitarist and retiring Jazz Program Director Mike Irish added a nice touch too. Speeches were heartfelt and mercifully short. The Mrozes were presented with a pair of beautiful Michigan Tech chairs by Board President Terry Woychowski. The mood was upbeat and cheerful as you can imagine, and the admiration and love of the community for Glenn and Gail was on full display.
Glenn has been president for my entire 10 years on the job in the ECE Department, so I do not know Michigan Tech without him. I first met Glenn and Gail during my interview trip in 2008. Tim Schulz, the Dean of the College of Engineering at the time, realized that we were all traveling to Houghton on the same flight the night before, and he asked them to be on the lookout for me. I'll never forget it – I was hanging out in one of the little gate areas on Concourse A or B in the Minneapolis airport, eating an orange while I waited for the flight. I had sticky orange juice all over my hands when this man walked up and said "Hi, I'm Glenn Mroz, President of Michigan Tech. You must be Dan." Oops. We had a good laugh (I think) and made small talk for a while, after I got myself cleaned up.
If I could summarize my impression of President Mroz over these past ten years I would say that his passion for Michigan Tech, both as an academic institution and as a community, has been the driving force behind everything he has done. He has overseen a successful capital campaign, guided the university in the growth of his research activity, and helped to foster a culture of diversity and inclusion. Many people have commented that he has moved Michigan Tech to "the next level" and that we are contributing to Michigan, the U.S., and the world in more ways than we did 10 or 20 years ago. His leadership style was highly personal. He was on a first-name basis with everyone he saw regularly, including me and good part of the student body as well. Not everyone agreed with every decision he made, which would be impossible, but I do not know anyone who did not like and respect him, or felt uncomfortable being around him. He was a Husky through and through. Michigan Tech is a better place because of his leadership, and if we continue on our current trajectory of excellence in technological education and research it will be due in no small measure to his example, his hard work, and his vision.
Glenn, thank you for everything you have done for Michigan Tech. I am happy that I know you, and I am proud to have served under you. Enjoy the next few years and the time off that you so richly deserve. I hope that, as you keep an eye on things from a more distant perch, you will be able to take pride in what you started and that we live up to your expectations. On behalf of everyone in the ECE Department, all the best!
– Dan
Daniel R. Fuhrmann, Dave House Professor and Chair
Department of Electrical and Computer Engineering
Michigan Technological University