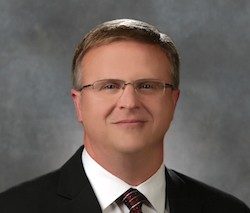 Michigan Tech has received a $75,000 gift from ITC Holdings Corp. to support the renovation of the ECE Learning Center in the Department of Electrical and Computer Engineering. The renovated space will provide a clean, well-equipped place for undergraduate students in electrical engineering and computer engineering to study together and participate in peer mentoring with learning center coaches.
The ECE Learning Center is housed in 123 EERC, a room of 560 sq. ft. adjacent to the ECE department office and near two large lecture halls. It is used for student collaboration, peer mentoring and as a place for students to work on homework and socialize between classes and in the evenings.
The proposed renovation will bring the room up to modern technological standards as a collaborative and mentoring workspace. There will be an overall facelift with new carpeting, painting and glass whiteboards, and the space will be redesigned around sets of tables and chairs with pods that allow students to connect laptop computers to one of three 65'' wall-mounted monitors. It is anticipated that the enhanced functionality and attractiveness of the space will lead to increased utilization and a greater sense of community among ECE students.
ECE Department Chair Dan Fuhrmann says, "I am delighted and grateful to ITC for their generosity. The Department has needed to upgrade this resource for our students for quite some time. It's nice that students have a place to hang out and work, so close to their classrooms, but now they will have a brighter, cleaner space that is more inviting and more conducive to collaborative learning. I'm sure more students will take advantage of it once they learn what we have done."
ITC, an electrical power transmission utility headquartered in Novi, Michigan, has had a long and positive relationship with the ECE department and the Michigan Tech College of Engineering. ITC Executive Vice President and Chief Operating Officer, Jon Jipping, who was instrumental in arranging the gift, was chair of the ECE External Advisory Committee and is currently chair of the CoE External Advisory Board. In announcing the gift, Jipping remarked, "At ITC, we recognize the importance of inspiring today's students to pursue careers in engineering, which is critical to the future of our industry. The renovated ECE Learning Center will offer an environment where students can be inspired, collaborate and advance their educational pursuits."
In recognition of ITC's support for the ECE Department over many years, and for this gift specifically, the ECE Learning Center will be renamed the ITC Learning Center for at least the next five years, and will be recognized as such with appropriate signage and displays.
By the Department of Electrical and Computer Engineering.