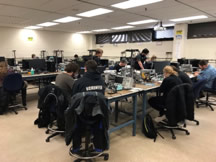 Engineers' Week this year took place February 17 – 23, 2019. Michigan Technological University's nationally recognized engineering honor society, Tau Beta Pi (TBP), partnered with Blue Marble Security Enterprise to participate in a Heart Rate Monitor (HRM) Event. The event was held on Friday, February 22, where approximately 15 TBP members learned the basics of soldering.
The TBP members had various levels of soldering knowledge, some being beginners and others having plenty of experience. They represented various majors while participating. The Blue Marble Security outreach team supervised for those with little experience and answered questions.
The HRM is a basic circuit used to teach students how to read color bands on resistors. The colors correspond to the resistor ohm value and polarity regarding the device LEDs. Besides basic component knowledge, the students learned the correct and safe process of through hole soldering. Upon the completion of populating and soldering the components in place, students were given an integrated circuit and nine volt battery to check the operation of the board. The TBP members took their completed heart rate monitor boards home as souvenirs of their soldering experiences and of Engineers' Week 2019.
Related:
Boy Scouts Learn to Solder Heart Rate Monitors
Society of Women Engineers Learn to Solder Heart Rate Monitors