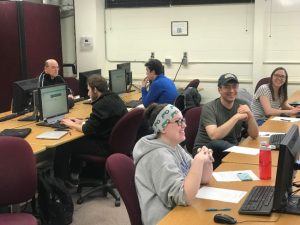 The first Electrical and Computer Engineering department texting campaign was held on March 26, 2019. The texting campaign is similar to the calling campaign the department put on earlier in the semester; however, students were able to send in questions via text.
Five current Tech students held conversations with approximately thirty students who had been accepted to Michigan Tech, answering questions all across the board.
The event was a success, and our students had a great time answering questions and discussing their experiences as a Husky—which can clearly be seen by the smiles.
By Kelsey Robinson, EE senior.