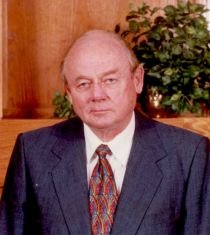 James A. (Jim) Klungess passed away on July 16, 2019. Jim graduated from Michigan Tech in 1949 with a bachelor's in electrical engineering. After graduation, he returned to the Iron Mountain area where he established himself as a business leader. He, along with a partner, built Iron Mountain's first cable TV system and went on to found Cable Constructors Inc. (CCI), which specialized in constructing cable TV systems both regionally and nationally.
Jim was recognized by Michigan Tech on several occasions. In 1990 he was awarded the Board of Control Silver Medal. He was inducted into the Electrical Engineering Academy in 1997 and was awarded the Distinguished Alumnus award by the Alumni Association in 1998. In 1999 he was Tech's spring commencement speaker and was presented an honorary doctorate degree.
He was an extremely good friend of the University lending both his time and energy to numerous initiatives. He served three consecutive terms on the Michigan Tech Fund Board attaining Life Trustee status in 2002. He was co-chair for the campaign to fund the Rozsa Center for the Performing Arts and served on Tech's International Advancement Advisory Committee in 2003.
Jim, along with his wife, Verle (who passed away in 2004), were very generous with their philanthropic dollars investing in numerous University programs over the years. These include the Annual Fund, the Rozsa Center, and cultural and international initiatives. In 1991 they established the James A. Klungness Endowed Scholarship to assist Iron Mountain-Kingsford area students attending Michigan Tech. They were members of the Hubbell Society, as well as charter members of the Second Century Society.
View Jim's full obituary online.
By Michigan Tech Advancement.