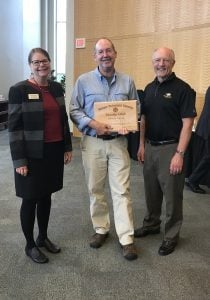 ECE's Tim Schulz was presented with the University Professor award at a ceremony yesterday. Schultz was nominated by Dan Fuhrmann, former ECE chair. The prestigious award recognizes faculty members who have made outstanding scholarly contributions to the University and their discipline over a substantial period of time. Standing with Schultz are Provost and Senior Vice President Jackie Huntoon, and Dan Fuhrmann. Read the full article on the awards ceremony in Tech Today https://www.mtu.edu/ttoday/….
Schulz has served Michigan Tech for nearly 27 years and has been a role model for all with his commitment to excellence in teaching, research and administration. He became ECE department chair in 1997, and was promoted to the rank of full professor in 2007, the same year be became dean of the College of Engineering. As ECE department chair, he tripled the size of the PhD program and developed a new BS degree program in Computer Engineering. As dean of the College of Engineering, he led efforts to bring more accountability and transparency to our activities through the establishment of goals in faculty achievement and recognition, in research and in our educational programs; and then putting in place methods for measuring progress relative to those goals.
When Schulz stepped down from the Dean's Office, he returned to the ECE faculty where he has been a leader in using technology to deliver technical material in electrical engineering and developing new online courses.