Great Lakes Investigations Aboard Michigan Tech's Research Vessel Agassiz from June 15 to July 15, 2015 for Students in Grades 4‐12 ~ Fun! FREE! Educational!
Ride the Waves with GM invites Copper Country youth in Grades 4‐12 to join scientists from Michigan Tech's Great Lakes Research Center in the exploration of Lake Superior, Keweenaw Bay and/or Portage Lake.
Programs are 3‐4 hours in length—with 1.5‐2 hours on the Agassiz and 1.5 hours in the lab. The Agassiz will accommodate up to 17 youth/
chaperones (minimum of 10 is required).
Aquatic Food Web & Lab Investigation ~ Measure water quality and collect samples to examine in the lab to find out "How Do You Make A Lake Trout?" All ages.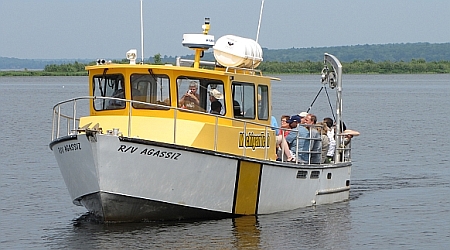 To make reservations, call or email:
Michigan Tech Center for Science & Environmental Outreach
Phone: 906‐487‐3341
Email: Lloyd Wescoat lwescoat@mtu.edu
Joan Chadde jchadde@mtu.edu
Provide number of students and 3 date/time options
RidetheWaves.Flyer 06.10.15 GE