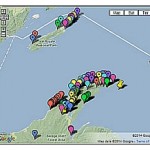 The Keweenaw Peninsula is a place of natural beauty with a fascinating mining history. Join local expert Bill Rose in reading the landscape to learn how the Copper Country came to be the way it is today.
Each one-day field trip explores one of four major events in Earth's history that make up the strong geoheritage of the Keweenaw: Lavas, the Keweenaw Fault, the Jacobsville Sandstone and Copper Mining Waste of Lake Superior. Participants can expect to cover a lot of ground and be outside all the time.
The trip dates are as follows:
TRIPS ARE ALL FULLY BOOKED
July 27 – Lavas and the Keweenaw Rift
July 28 – The Keweenaw Fault
July 29th – Jacobsville Sandstone
July 30th – Copper Mining Waste of Lake Superior Today
Travel is a combination of van transport, short walks and trips aboard Michigan Tech's research vessel, the Agassiz. Trips are limited by boat capacity to 17 people. Each day trip costs $145 and includes lunch and snacks, boat and van transport.
For more information, trip descriptions and registration please visit the Keweenaw Geoheritage website. For specific questions, please email Erika Vye at ecvye@mtu.edu.