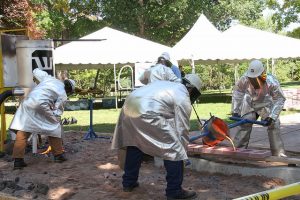 You may think college students are too old for a sandbox, but this isn't your average sandbox. Today (Sept. 12, 2017), a 12 x 24 foot sandbox will be constructed in the center of Michigan Tech's campus.
The sandbox will be filled with two and a half tons of sand, for a pouring of liquid metal by Waupaca Foundry, Inc.
Tuesday is Career Services Materials Day formerly known as "Foundry Day," where students are invited to explore careers in foundry, steel, biomaterials and ceramics.
From 11 a.m. to 2 p.m., between labs and classes, students can design souvenir sand molds, engage with company reps and see innovative products and technologies.
The event is sponsored by Whirlpool, Neenah Enterprises, Winsert, Waupaca Foundry, Inc. and Roberts Sinto Corporation.
Materials Day is one of seven industry-related events hosted by Michigan Tech Career Services in the month of September that prepares students for the fall Career Fair.  Find out more about Career Fest online.
By Career Services.