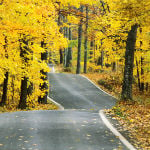 The MDOT Office of Research is soliciting research priority ideas for their upcoming funding years FY19/20/21. This is a great opportunity for Michigan Tech researchers from various departments to expand their research portfolio into transportation topics.
The topics are very versatile, from hard core pavement engineering to water and environmental aspects, life cycle cost engineering, even workforce development. Details on MDOT research priorities can be found here.
In the past, Michigan Tech Transportation Institute (MTTI) has submitted Tech's research ideas to MDOT as a combined package for a stronger, unified presence. Our plans are to do so again.
From noon to1 p.m. Thursday (Nov. 9, 2017), in Dillman 309A, MTTI will be hosting a lunch meeting for discussions, gathering of ideas and to provide a setting for collaboration on the research idea topics listed. We will also share a couple of past ideas that were later turned by MDOT to RFPs and we'll provide some insight from discussions with MDOT.
We've created a spreadsheet to gather information on topic ideas you're interested in providing to MDOT. Email Pam Hannon to get a link to the spreadsheet. Contact Pam also, if you'd like to join us in the meeting by Tuesday (Nov. 7).