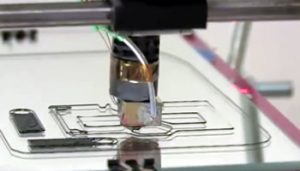 Three Michigan Tech student teams have been chosen to compete in the Accelerate Michigan Innovation Competition in Detroit on Nov. 16, 2017. The student teams will compete for a total of $21,000 in funding.
Statewide, 27 teams were selected through submission of a one-minute video and a brief write-up about the company product or service, revenue model and team capabilities.
The Tech student teams are Looma, Makerhub and FitStop. Looma is a food and nutrition app that helps users eat healthier by providing preference-based recipe suggestions with integrated calendaring for preparation time and grocery lists for shopping. Makerhub is a web application that connects individuals who own 3-D printers with others who need 3-D printed parts. FitStop is a web application that connects people who are traveling for business or leisure with gyms or fitness centers in the city they are traveling to.
Three Michigan Tech-affiliated start-ups will also participate in the competition. They are StabiLux Biosciences, Goldstrike Data and Orbion.
By Jenn Donovan.