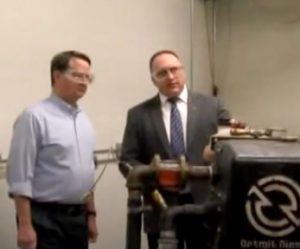 HOUGHTON — Testing of autonomous vehicles, such as that being done at Michigan Technological University, could get a boost with legislation working its way through Congress.
The American Vision for Safer Transportation through Advancement of Revolutionary Technologies (AV START) Act was approved by the Senate Commerce, Science and Transportation Committee in October. U.S. Sen.
Gary Peters, D-Mich., sponsored the bill along with Sen. John Thune, R-S.D. U.S. Sen. Debbie Stabenow, D-Mich., is a co-sponsor of the legislation.
In March, Peters visited Tech's Advanced Power System Research Center to get informed of Tech's research and development efforts into autonomous vehicles.
Jeff Naber, director of the center, said the bill will enable the advancement of autonomous vehicle functions.