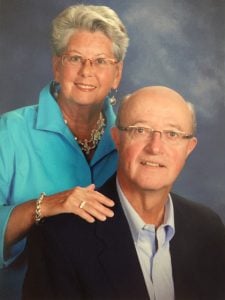 "I believe that a great education is the foundation for a great career. I was fortunate to have both." —Gary Anderson '67
I believe that a great education is the foundation for a great career. I was fortunate to have both.
Growing up in Ishpeming in the 1950s, I saw firsthand what hard work looked like. My father had to quit school to work in the mines at age 15 to support the family after my grandfather was killed in a mining accident. Both my father and mother stressed the importance of getting an education. They wanted me to have a better life and sacrificed financially to send me to college.
Michigan Tech proved to be tough, but I welcomed the rigor. It hardened and sharpened me to be able to compete in the global marketplace. I graduated in 1967 with a degree in chemical engineering. I joined Dow Corning and spent my entire career there, eventually becoming CEO and Chairman before retiring in 2004. I'm proud to say our firm grew 50-fold and became recognized as one of the nation's top 100 companies to work for.
Looking back on my career, I realize the value of my education and the role Michigan Tech played in my development. My wife, Judy, and I wanted to help today's youth achieve their potential as well. We set up a charitable lead trust. It's a great tool we are able to use to support Tech and several other of our favorite charities for a 10-year period with the residual trust value going to our children in the future. The trust allows us to see the impact of our annual gifts now while we are alive, as well as reducing taxes on the remaining assets that will go to our family in the future.
I'm happy to say we've been able to start the Anderson Family Scholarships for students from Ishpeming and Westwood High Schools as well as a student research fund in the Department of Chemical Engineering.
Judy and I believe, just as my parents did, in the importance of a great education. We are thrilled to be able to help others improve their lives through education, and encourage others to do the same.
A charitable lead trust is an irrevocable trust designed to provide financial support to one or more charities for a period of time, with the remaining assets eventually going to family members or other beneficiaries. For more information on lead trusts or other planned giving options, visit www.mtu.legacy.org or email giftplan@mtu.edu.