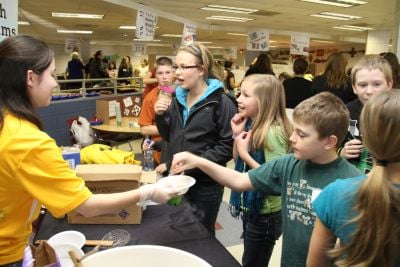 The Western UP Science Fair and Science & Engineering Festival will be on campus at Michigan Tech, on Tuesday, March 19, from 4:30-7:30 pm.
All students in the Western Upper Peninsula of Michigan— kindergarten through the 8th grade, and their families—are invited to attend the Science & Engineering Festival from 4:30-7:30 pm, Tuesday, March 19 in the Memorial Union Building Commons (ground floor) at Michigan Tech. 
More than 60 Michigan Tech students from 15 Michigan Tech student organizations will engage participants in fun, hands-on engineering, physics, and chemistry activities, including Remotely Operated Vehicles, Fish Tank Fiber Optics, a K'NEX Wind-powered Water Lift, and Tracks & Trains. Design an egg package with toothpicks and marshmallows. Design and shoot a straw rocket! Make some Gel-o that mimics human tissue! Make art with glow in the dark paints! How about glitter slime and popsicle stick flashlights? More than 30 different fun things to try!
Schedule & Event Flyer
4:30-7:30 pm   Activity Stations open to the public (K-8 students and families)
5:00-6:00 pm    Public viewing of science fair projects in the Ballroom (2nd floor)
2019 STEM Festival-FLYER 031919
Don't miss this super-fun event! The stellar list of Michigan Tech student organizations include:
FIRST Robotics Houghton Middle School
Society of Physics Student Chapter
Engineering Ambassadors                                         
Railroad Engineering Activities Club
Materials United – Materials Science Engineering
Women in Natural Resources
Society of Women Engineers
MTU Sustainability House
Dollar Bay SOAR
Mind Trekkers
Society of Environmental Engineering
Optics & Phototonics Society
Biomedical Engineering
Keweenaw Rocket Range
Tau Beta Pi
For more information: Joan Chadde, 906-487-3341 or jchadde@mtu.edu
Michigan Tech Hosts STEM Festival & Science Fair
Hundreds of Keweenaw area students visited the campus of Michigan Tech Tuesday as they took part in all sorts of fun and games, and all in the name of "Science."
"We have some new organizations: the Keweenaw Rocketry Club, Biomedical Engineering is here, the Society of Physics students always come out and they have a lot of fun," said Chadde.
Read more at the Keweenaw Report.
Michigan Technological University hosts 21st Annual Western Upper Peninsula Science Fair and STEM Festival
"What we want the students to see is how much fun science, technology, engineering, and math are," said MTU Center for Science and Environmental Outreach director Joan Chadde. "They're also interacting with some great role models."
Projects from the fair that earn enough points will receive gold, silver, or bronze ribbons. All ribbon winners will be able to present their project at the Carnegie Museum in Houghton this April.
Read more and watch the video at Upper Michigan's Source, by Tyler J. Markle.
Science Fair: Michigan Tech hosts 21st annual festival
"At this event we want to get kids interested in rocketry. That's actually one of our mission statements for the organization," said Dan Faber, vice president of the Keweenaw Rocket Range.
Younger students who want to join an organization before college were welcome to talk to the FIRST Robotics team, a robotics group for K-12 students.