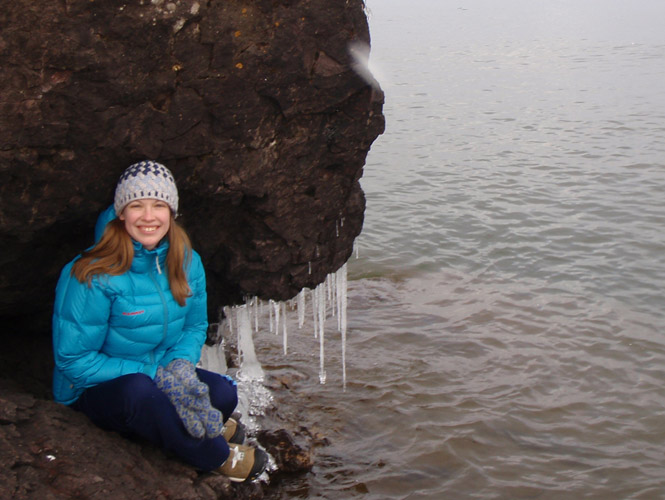 The Graduate School is pleased to announce that Jennifer Heglund was Michigan Tech's nominee for the Midwestern Association of Graduate Schools Distinguished Thesis Award.  Ms. Heglund was nominated by her advisor, Dr. B. Barkdoll of the Department of Civil and Environmental Engineering.  Her thesis, "Effects of Climate Change Induced Heavy Precipitation Events on Sediment Transport in Lower Michigan Rivers" modeled the potential effects of climate change, particularly heavy rainfall, on sediment transport in rivers.  Increased sediment transport could have an effect on erosion along rivers, and the models Ms. Heglund developed could be used for planning and land management. Ms. Heglund is currently employed by Northeast Technical Services in Virginia, Minnesota.
Fifty-one theses in the midwest were nominated for the award, and although her work was not recognized as the award recipient, it was well received by the reviewers.  One reviewer commented, "I enjoyed reading this thesis – it's a pleasure to see such a complete approach to a problem."
Seth DePasqual was also nominated by his advisor, Dr. T. Scarlett, on behalf of the Social Sciences Department.  His advisor described his thesis as, "…a study of the evolution of an early 20th century mining system in Spitsbergen as applied by Boston-based Arctic Coal Company."
The committee to evaluate the nominees consisted of graduate faculty representing a broad range of graduate programs:  M. Neuman (Biomedical Engineering), S. Martin (Social Sciences), R. Froese (School of Forestry Resources & Environmental Science), B. Davis (School of Technology) and G. Campbell (School of Business and Economics).  Next year's competition will consider applicants who have completed their degrees between October 1, 2009 and September 30, 2010.  An application consists of a recommendation letter from the advisor and an electronic copy of the thesis.  Please consider nominating your MS students next year.