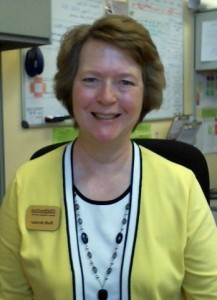 Hello! I'm Ruth Archer, the new Manager of Process Improvement. I'll be maintaining and building on the excellent foundation of continuous improvement using Lean principles already established at Michigan Tech. I'm responsible for the leadership and support of process improvement activities on campus. I'm pleased to be leading this highly skilled team and look forward to taking on the challenges of the position.
I believe that following a continuous improvement philosophy is an excellent way to be successful, both professionally and personally. Integrating continuous improvement into your work can increase your effectiveness, efficiency, and productivity. Bottlenecks and non-value-added steps can be identified and eliminated. Costs can be reduced through savings in money, time, and materials. In addition, continuous improvement can increase your job satisfaction because you'll feel empowered. Decision making is pushed down to the lowest possible level. Employees are enabled to challenge the status quo and offer ideas for improvements. And the system ensures that people's ideas are listened to and discussed, so, even if your idea isn't ultimately used, you'll still feel valued. Finally, continuous improvement increases customer satisfaction because the customer gets a quality product at the lowest cost. Satisfied customers will return for more and recommend your organization to other people.
The best part is that you don't have to figure this out on your own! Our team of experienced facilitators and process coordinators will help you form the right team and lead you through every step to get your process improved.
I personally enjoy practicing Lean principles. When I was an aircraft technician in the Air Force, my shop lived by the 5S's: Sort, Set in Order, Shine, Standardize, and Sustain. Our tools were carefully arranged, including our bench tools and our toolboxes. Our workplace was cleaned at the end of each shift, and our work on the aircraft had to be meticulous. We used technical orders to standardize tasks and regular inspections to sustain adherence to procedures. As a university instructor, I used continuous improvement as an integral part of teaching. I applied the Lean principles of creating value for the customer, eliminating waste, and respect for people to improve my courses. For example, reviewing the type and spacing of assignments to provide a steady work load for students, explicitly relating assignments to learning outcomes, and ensuring all assignments have a clear format and grading rubric are all continuous improvement processes for faculty.
Contact us and we'll come and talk to you about how you can incorporate continuous improvement practices into your everyday activities.