We are pleased to post this guest blog from Theresa Coleman-Kaiser, Assistant Vice President for Administration.
As a volunteer through the Michigan Lean Consortium (MLC), I was asked to work on an improvement project focused on revising the Michigan Department of Education's (MDE) Scorecard to align more directly with the department's articulated priorities.  My role was that of a Lean facilitator.
The work of planning, data collection, meetings, and a final workshop was done virtually through email, conference calls, and by using Skype.  This worked extremely well since I'm located in the U.P. and all the others in Lansing, MI. I initially worked with two representatives from the Department of Technology, Management, and Budget who coordinated and co-facilitated as "boots-on-the-ground" representatives responsible for the continued deployment of the Governor's initiatives, and with key leadership in the Michigan Department of Education.  The work concluded with two larger meetings that included the Deputy Superintendents and/or the Special Assistants from the various areas within the MDE.
The key deliverable was to create a pathway to get from the scorecard in place when we began this work in November, 2013, to a revised future-state scorecard that linked directly to the MDE mission and priorities that have been articulated for 2013-2015.  At the conclusion of the final workshop, held in March 2014, the group had established a goal of two metrics for each of their seven strategic goals.  Each scorecard metric would represent either a student outcome measurement, or measurement of a process that drove student outcomes.  A few organizational metrics, such as employee turnover, were recognized as valuable although not directly tied to priorities. 
While some follow-up work will need to be done to determine the final scorecard metrics and receive approval to execute the update, the group left the final workshop with a decision-making framework that will ensure the Scorecard metrics align with strategic priorities, is outward-facing whenever possible to inform the public, drives the desired behavior, and is appropriate at the departmental level.
This work will significantly change the metrics that appear on the MDE scorecard as well as significantly reduce the total number of department-level metrics from the current 27 to between 15 and 20.  Many of the existing Scorecard metrics will either be pushed to an Office-level scorecard or eliminated entirely.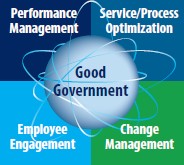 Facilitating this improvement work was a great professional development experience for me that provided an opportunity to exercise my facilitation skills and sharpen my thinking on metrics.  I had a really fun group of people to work with and greatly enjoyed this volunteer experience.
The MLC partners with the State of Michigan to provide assistance in implementing the Good Government imitative, which is about achieving best-in-class public service through empowered and innovative employees. Elements of good government are service and process optimization, employee engagement, change management, and performance management.