Today we bid a fond farewell to Megan Johnson. Megan has been a student Process Improvement Coordinator in the Office of Continuous Improvement for 3 years. In that time, she was involved with dozens of Kaizen Events, both as a coordinator and as a facilitator.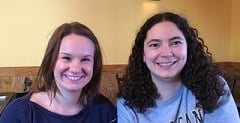 Megan recently graduated from Michigan Tech with a degree in Biomedical Engineering. She's taking a position with a global manufacturing company as a Value Stream Team Leader. A value stream is the series of events and the information flow required to transform a customer request into a good or service. Value streams generally cross production lines and departmental boundaries; they have an enterprise focus rather than a functional focus. Megan credits the skills she developed as a student Process Improvement Coordinator and as the president of the Leaders in Continuous Improvement (LCI) student organization with giving her the competitive edge during her job search. 
Megan sends her thanks to all of the wonderful continuous improvement facilitators and team leaders that she's worked with. 
Goodbye, Megan. Have a super sparkly career!