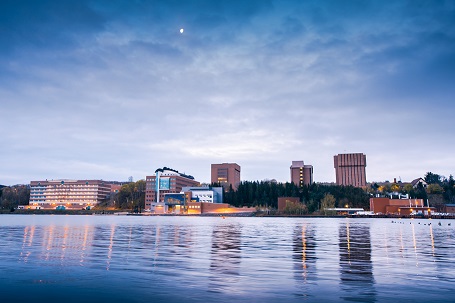 At Michigan Tech, continuous improvement is being integrated into the everyday operations of the university. A central Office of Continuous Improvement supports departments and individuals in their efforts and functions as a knowledge bank for people seeking more information. This office connects people who want to do a continuous improvement event with a trained facilitator; the university's 24 facilitators are all volunteers.  
Training, workshops, and coaching help to develop a continuous improvement culture. The Lean facilitators and Lean Implementation Leaders attend monthly continuing education to keep their skills fresh. All new supervisors are required to receive basic training in Lean principles. In addition, periodic workshops on topics like 5S and Process Mapping make Lean immediately useful and accessible to university employees.
Michigan Tech's Continuous Improvement program also increases campus and community awareness, exposure, and engagement. Initiatives in this area include an active website, this blog, a recurring article in the university newsletter Tech Today, a Twitter account (@Lean_at_MTU), and a Lean Library. A Lean Model Office tour showcases Lean practices in an office environment; stop by the office at 136W Wadsworth Hall to take the self-guided tour. Michigan Tech also organizes a quarterly meeting for the Copper County Lean Group made up of 26 area businesses who gather to learn more about Lean and continuous improvement, share stories, collaborate, ask questions, and celebrate successes.