Thank you to our returning guest blogger, Kaylee Betzinger, a former student process improvement coordinator here at Michigan Tech and currently an intern at Amway in their Enterprise Excellence Department.

I recently had the opportunity to go on an industry tour to Menlo Innovations. Menlo Innovations is a custom software development company that utilizes a High-Tech Anthropology approach and incorporates continuous improvement principles in their day-to-day activities to develop and build new and innovative programs for their customers. Richard Sheridan, Menlo's founder and CEO, is the author of Joy Inc. (How We Built a Workplace People Love). Menlo has won numerous awards, including Inc.'s 500 Fastest Growing Private Companies in American (Inc. Magazine), 101 Best and Brightest Companies to Work For (Metro Detroit), and the Alfred P. Sloan Award for Excellence in Workplace Flexibility (When Work Works).
A hot topic lately at Amway has been Visual Management. Several different departments at Amway Headquarters have expressed interest in Visual Management, so we (Enterprise Excellence) thought, what better way to teach Visual Management than to go to a world renowned company that is known for their culture and visual workspace (AKA, go to the Menlo Innovation Gemba). Menlo welcomes companies to come in and take one of the many tours or workshops available and learn more about what it means to have Joy in the workplace. We were able to take the Menlo Innovations Business Value of Joy Workshop, which is a private workshop geared toward a topic of our choosing (Visual Management) and is given by one of the partners.
James Goebel, Menlo's Chief Architect and a Partner was our workshop facilitator. Before our tour even began we were able to participate in their companywide daily standup meeting. Their daily stand up (see Figure 1) takes place every morning at 10:00 am. Everyone gets up from what they are doing, forms a large circle, and explains what they will be working o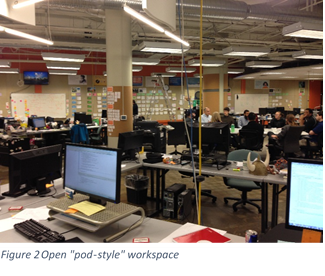 n for the day and if they are in need of any assistance from other team members. I was astounded that everyone was able to participate (60+ employees) and keep it under 10 minutes. What a great way to kick-off our workshop!
After the stand-up, James began talking about the Menlo culture and the
different behaviors they've incorporated, such as an open and collaborative workspace (no walls, cubicles, or designated stations/desks, see Figure 2), estimation without fear, and making mistakes faster. Making mistakes faster is (what I believe) a key in any continuous improvement culture, so I inquired further and James explained that you have to create an environment where problems are obvious. When the problems are obvious and visual, you can fix them and generate results much quicker. A perfect example of this is in their Weekly Project Tracking Board (see Figure 3). For each day of the week they've laid out exactly what each project pair will be working on, on what they call a story card. The story cards are a simple,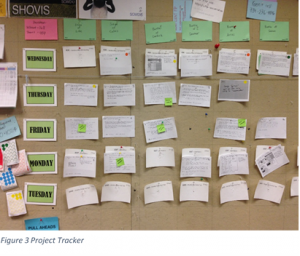 hand written description of what is needed for this piece of the project, an estimation of how long this will take, and a status in the form of a colored dot. They have 5 different colors with a different meaning for each (as seen in the upper right hand corner of each story card). The colors and meanings are as follows: yellow—currently in process, orange—done in the eyes of the team and waiting for QA approval, red—needs additional attention, question/need assistance, or waiting for a response from the client, green—completed, and blue—cancelled. This project tracker is an extremely simple and effective way to track projects. Anyone in the building can walk over to the board and see the progress on any given project.
Anywhere you look in the building you can see how Menlo has integrated visual management and visual cues. You can feel the Joy in the air when you walk in, and that is something to be cherished and striven for. I would recommend taking a Menlo tour to anyone interested in learning more about a continuous improvement culture and what it looks like to have Joy in the workplace (plus you get a copy of Rich Sheridan's Joy Inc.).