One of the initiatives that the office of continuous improvement has for fiscal year 2015 is to incorporate more Kaizen events into student organizations. As president of Michigan Tech's American Society of Mechanical Engineers (ASME) student chapter I was having frustration regarding the current state of our process of supporting the annual Student Design Competition (SDC). In this process a group of students builds a robot to go through an obstacle course. Trouble lied in communication and failure to compete in the competition even after thousands of dollars was vested in the activity. It then struck me that I could integrate my two activities, my work at the Office of Continuous Improvement and also ASME to be mutually beneficial.
To help launch the Lean mindset in the student organization I invited Ruth Archer, Manager of Process Improvement,  to introduce at a very basic level some tool they could integrate into their daily life. This helped show the members common industry practices of Lean, and continuous improvement. Ruth also spoke to them about how Michigan Tech works to make sure that there are continuous improvement efforts being done on current processes through the office of continuous improvement. This gave the students new insights into how the university was working at improving their experience as students of Michigan Tech.
A few days after this presentation the pre- meeting for the ASME  SDC team Kaizen event. I was put on as the team leader with Laura Henry and Jim DeRochers acting as co- facilitators and Kaylee Betzinger acting as the student process improvement coordinator. The current state was outlined and can be seen in the image below. Items included the lack of definite rolls and lack of time.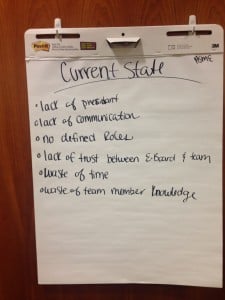 A week later the actual Kaizen event was held with the team members of the design team, the executive treasurer of ASME, as well as all support persons  facilitating the Kaizen present.
Some images of the current state were taken from the Kaizen event and can be seen below.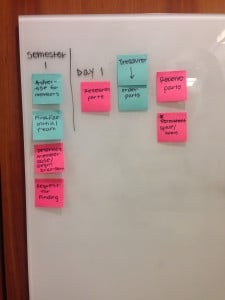 The competition took place on April 10th and I look forward to seeing how integrating Lean practices helps the team in years to come as the most use from this event will come in this years preparation for the competition. One of the major outcomes is that Kaizen communication has been streamlined between the team and the executive board and an increased amount of documentation though Google Drive.
If your student organization is having trouble with a current process contact the Office of Continuous Improvement at: 906-487-3180, e-mail improvement@mtu.edu or request a Process Improvement Event here.