As part of our training program to become a Lean Facilitator, the trainees participated in a kaizen facilitated by one of our experienced facilitators. For their kaizen, the trainees chose to focus on the enforcement of policies for employee parking violations. During their report out, they passed on some "lessons learned" that are a good reminder for all of us.
Kaizen Lessons Learned:
If a tool isn't working for you, move on to another one. (They just weren't getting any traction using a Fishbone diagram.)
Just because a decision making tool indicates the "best" choice, doesn't mean you have to go with it. (The ICE tool (Impact, Control, and Ease) showed that a wheel boot was the best choice, but the group decided against it.) It's the people who decide.
The kaizen participants assumed they know who was doing what during the process they were investigating, but they were wrong. (There was a miscommunication regarding the employee invoicing system.)
You'll understand the tools a lot better if you try to use them. Also, you don't have to be perfect at using a tool to try it.
You don't have to remember every tool. It's enough that you can remember there is a tool and look it up.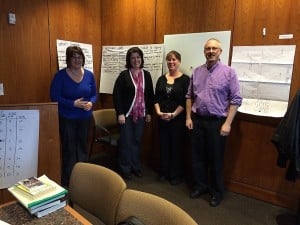 Thank you to the now-graduated Lean Facilitators Mary Babcock, Pattie Luokkanen, Angie Kohlemainen, and Todd Van Valkenburg for their insights!