Remember the Magic Eye pictures? They appear to be computer-generated abstract images but, when you look at them just right, out pops a 3-dimensional (3D) object. The object was there all along, but until you learn how to see it, the image appears totally random. For example, the image below reveals a 3D symbol for recycling. Most people can't see the 3D objects the first few times they try. They have to make an effort and try different methods, like crossing their eyes or putting the abstract image behind a reflective surface. Sometimes people need to be coached in order to see the objects. In any case, the more you practice, the more you'll develop your ability to see the 3D objects.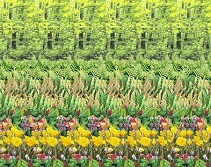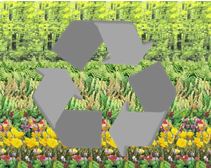 http://www.magiceye.com/client/recycle.html
This idea of having to learn how to see also applies to one of the foundational principles of Lean–the elimination of waste. Before you can get rid of waste, you have to learn to see it. This isn't as easy as it seems, because we're so accustomed to waste in our processes, we no longer see it. We're in luck, though, because a framework has been built to help us.
How does a framework help? Take a moment now to look around your room, and list all the materials you see and where they are in the room. Glass – window. Wood – table. Glass – clock face. Plastic – keyboard. Without a framework, you can do it, but it's hard, you skip around, and it's easy to miss a lot. If I give you a framework for looking, your list will be much longer.  For example, list all of the glass items you see – windows, clock face, iphone, light bulbs, picture frame, candy jar…. Then move on to all of the wood items you see, then cloth, plastic, and so on. See how comprehensive your list becomes?
In the same way, Lean provides us a framework for waste: motion, waiting, movement, correction, over-processing, overproduction, inventory, and knowledge. When you're looking at your current state trying to improve your process, take the time to step through the waste framework, contemplating one waste at a time. This will help you find more waste and also improve your ability to see waste in your everyday activities.