It has been a great journey over the past two years as a process improvement coordinator (PIC) and as graduation is just two weeks away this will be my last post. I have really enjoyed working with so many different people and being a part of real changes across campus.
Since starting in July 2014, I have helped out by being a Lean facilitator for 3 on-campus events and a PIC for 14 campus improvement events across 5 departments at Michigan Tech. These events have helped campus save over 400 hours of time for Michigan Tech's staff, and over $4,000.00 in waste, along with alleviating countless amounts of stress all around. The projects have ranged from helping employees 5S their workstation, to aiding the Van Pelt and Opie Library staff in standardizing the archive binder process, to helping student organizations like the MTU FilmBoard come up with standardized processes for their equipment set up. I have also been able to assist in 5 office projects ranging from informational wall posters which can now be seen outside our office, to marketing videos that including a cameo appearance by Michigan Tech's President Glenn Mroz!
I first learned about Lean from my co-op with Kimberly-Clark in one of their manufacturing mills located in Ogden, Utah, and I have been able to take it with me as far as Boston when I met up with John O'Donnell for the second time at the Lean Enterprise Institute headquartered in Cambridge, Massachusetts. A selfie of that visit can be seen below (I have blogged about it before). I love Lean because it not only promotes order and information transparency, but also underlines having respect for people.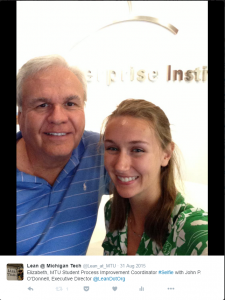 I would like to thank the entire Office of Continuous Improvement for the time and patience they poured into me upon my arrival, as I was becoming more fluent in my understanding of a what a Lean culture really is. After graduation I will be trading Houghton, Michigan for Seattle, Washington, all the while spreading the Lean spirit that I have learned to love over these past two years. Best of luck to the newly hired PICs–I have full trust that you'll continue down the great pathway this office is on and fall in love with Lean as much as I have.