We are pleased to present this guest blog post by Laurie Stark, Department Coordinator for the Van Pelt & Opie Library at Michigan Technological University.
While I was an intern at Honda I worked on several major projects within their Business Administration unit, including one that involved their key management process for the entire plant. Their current key management process was not working very well.  Keys were given out and never returned, they were not sure how many types of keys they used throughout the plant, their key box looked like a junk drawer, and if someone asked for a key, they might not have it on hand!
I was asked to help solve this problem during my time as an intern.  I was told that I would be taught all of the tools that would help me do so: root cause analysis (fish bone diagrams), going to the "spot," gathering metrics (pictures and data), developing and prioritizing countermeasures, and creating activity plans.  Using these tools, I developed a standard process for key management, created a new form, reorganized the keys, and mapped out how many keys were used in the plant.  These countermeasures immediately helped solve most of the problems.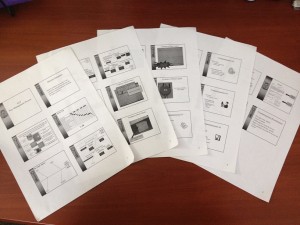 Almost ten years later, I started working at Michigan Tech and was asked if I wanted to get involved with the Lean movement on campus.  I started going to Lean Facilitator training this past fall and after the first two sessions, I had a lightbulb moment! I've seen this before…Honda does Lean?!?  How come they never talked about it?
During the four months I worked there, I did not hear the word Lean once, yet now that I look back, I can find countless instances where Lean was used every day.  Lean is their everyday way of solving problems.  Most employees who work there probably don't know or realize that they are using Lean tools to solve their problems and improve their processes.  It is so embedded into their culture, it has just become the way they do business.
Michigan Tech is on a Lean journey right now, and I have seen a glimpse of the destination–it is wonderful!  At Honda, I saw employees who were very productive and engaged in their work.  Employees were not fearful to share their ideas on any matter, in fact, they were encouraged to do so!  If there was a problem somewhere, everyone went to the "spot" to help problem solve, they were encouraged to submit new ideas to their supervisors and HR reps and I got the sense that people truly enjoyed working there. I would love to see the day that Michigan Tech reaches this same destination.
What can we do in our daily work to get there too?