Time and time again I am amazed by the flexibility of lean and its endless applications outside of the office. It seems that no matter what sort of process I have going I can always improve it in some way. Whether it be how often I perform regular maintenance on my car, how I stock my pantry, or how I prioritize my chores for the evening. The most adaptable part of lean is the use of people. Not a single aspect of lean was designed for one person and one person alone to complete a task, but rather to be easily used in a team.
Being a college student there are many times that you get put into a group of total strangers and you are expected to get the task done. However, each member goes into the group with a different set of priorities, expectations, and values that they carry with them- whether they know it or not. This is true going into a marriage, a summer camp, a new job, or even something as simple as a group project for school. The question I began to ask was, "How can you accommodate the different values and expectations before a diverging trait breaks lose?" and, "How can you have a plan for when disagreement arises?" The answer is by implementing a team charter.
What is a team charter? A team charter is developed in a group setting to clarify the teams direction while establishing boundaries, it is used to encourage a common understanding and shared voice among all group members.
I recently had the opportunity to practice a team charter in a unique setting with nine 9-11 year old girls in my cabin at girl scout camp. This charter was developed by the girls in my cabin on how we planned to take care of cabin, how we were going to treat each other, and how we were going to treat ourselves. To make sure that all of their voices were heard without making these preteens uncomfortable, I opted to use an affinity diagram with them. We took a few minutes to make three affinity diagrams (one at a time), after this we collaborated, laughed, and successfully agreed on our game plan.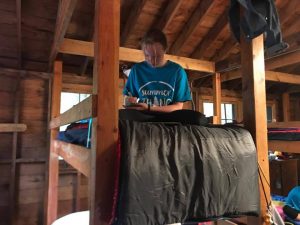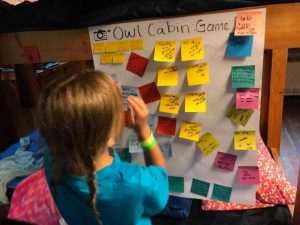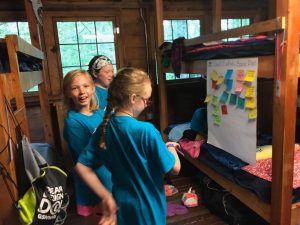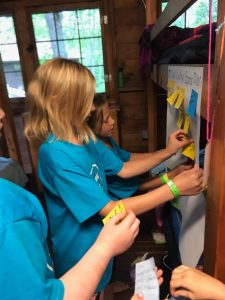 Sadly, I don't have an after picture of what we came up with, I was a little too excited that the idea even came together in the first place (In my time as a counselor I have learned that you never know what the middle school girls are going to bring). However, the game plan we formed was visible all week long and in several instances I noticed the girls taking a look at it, holding one another accountable to it, and sometimes asking for buy in to add a few more items to our plan. All in all it was a great week, and I was thrilled once again with the malleability of lean.