It's about that time of year again when members of the Office of Continuous Improvement are getting prepared to attend the Michigan Lean Consortium conference. At the conference members of our office will have the opportunity to hear from other Lean practitioners and learn about their Lean journey. In addition, the Office of Continuous Improvement will also be displaying a poster board to showcase how we have implemented Lean here at Michigan Tech.
When we practice Lean we often think of an effect that will benefit a large group of people or an entire process. However, Lean can be used in the most simple of processes, like creating a poster board for the MLC conference.
When we made the poster for the MLC conference, we used the 5 whys tool to decide what information we should include. As a result, it allowed us to narrow down our topic to include information that we believe the customer (other Lean practitioners in this instance) would value most.
After we came to a common agreement on the topic we did an affinity diagram to figure out how we wanted to display the information. An affinity diagram is where everyone in the group writes down ideas on sticky notes and then the notes are filtered into categories for organization. This allowed everyone to have a voice in the discussion and organizing the thoughts into categories allows everyone to be on the same page.
As a result of using Lean tools, we were able to effectively collaborate to get the poster done in a timely matter.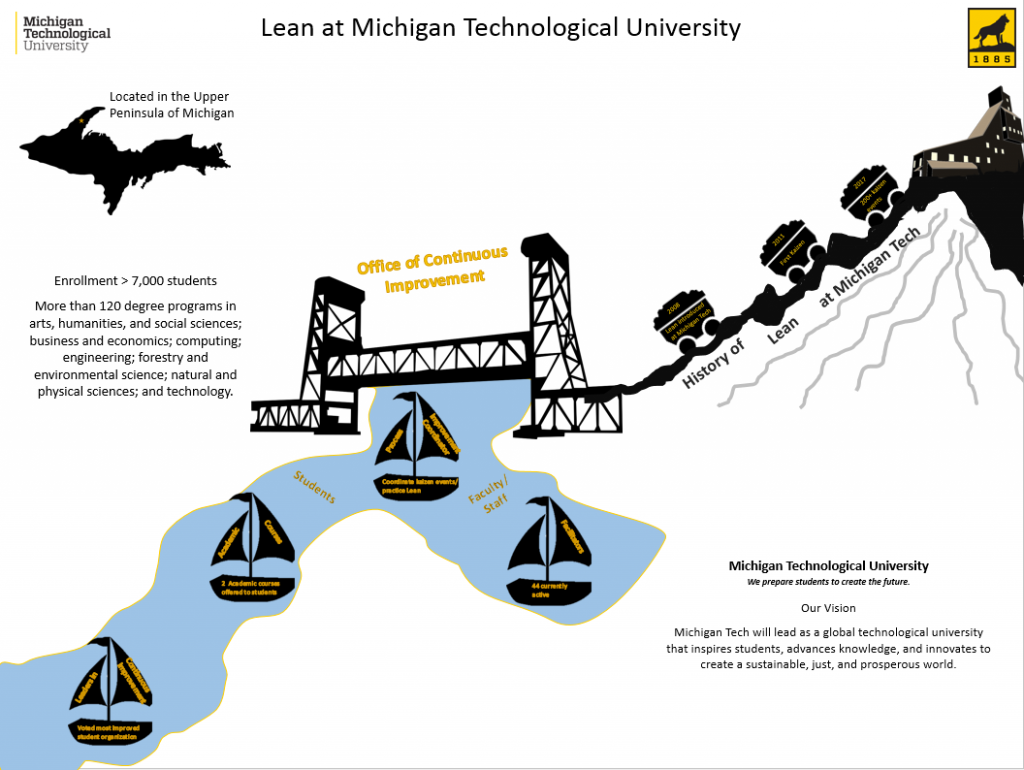 We wanted to create a lasting impression for those that will be encountering our board so we came to the agreement to include some of Houghton's Iconic structures. We did this to draw the audience's attention while also including information that we thought they would find of value. As a result of using some of the Lean tools, this simple process of making a poster became an even simpler process with an even better end product.