With the Fourth of July quickly approaching, I imagine many of you are planning or have already planned a vacation during this holiday. Maybe it's to your lake house or to visit family or maybe to go camping. Nevertheless, planning a vacation can be a very stressful task and you could run into many issues in the process. So, if we know these issues are going to arise, why don't we get one step ahead and plan for them? I mean, we have all these Lean tools at our disposal to pinpoint these issues before they arise.
A great Lean tool to use to sort out issues involved in planning a fun family vacation is an affinity diagram. An affinity diagram is a tool used by groups to gather and sort ideas, opinions, and issues when brainstorming. It gives structure and helps initiate action when brainstorming about a topic. In this situation, it will also allow your family to brainstorm ideas with you so everyone's issues can be accounted for. The first step in creating the affinity diagram is to have your family brainstorm as many issues as possible that could occur when planning a fun family vacation. Then, have them write down each issue on a sticky note and place them all in a central location.  There should be one issue per sticky note and they should be placed at random in the central location. An example of this can be seen in the figure below.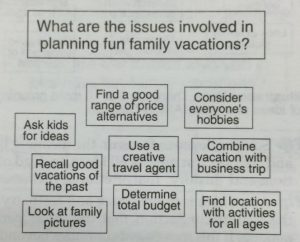 The next step is to sort the ideas that are similar to each other. Put these ideas in a vertical line with one another, so you can distinguish between the different groupings. An example of this step can be seen in the figure below.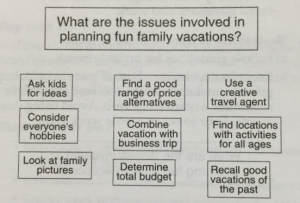 The last step is to come up with category names for each grouping so that you can pinpoint the similarities within them. Place the category name above each grouping. This can be seen in the figure below.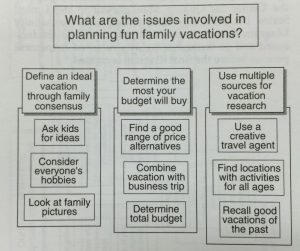 As you can see from the figure above, the issues that you could encounter when planning a fun family vacation are now clearly laid out and can be more easily addressed. Now you will be ready for almost any issue that appears during the process. Affinity diagrams can be used in many situations other than this one and are a very good tool to have in your back pocket. So, next time you are planning a vacation, brainstorming good movies options, or trying to figure out what could be wrong with your dishwasher, try using this tool. It could be a lifesaver in your situation!