As we start the first week of track B, the Office of Continuous Improvement would like to welcome back all the students for summer classes. It has been a very busy summer, and we are happy to report that track A ended successfully. Now that track B is starting, we want to remind everyone that we are available to help you start off this term on the right foot. The best way to start off these classes successfully is to set up a smart study plan. There are many strategies and tools out there that will help you with your organization. These tools have the potential to speed up and improve your work.  The Office of Continuous Improvement would like to be a tool in your tool box and assist you in accomplishing your summer goals.
The Office of Continuous Improvement has many tools and methods you can implement in your work. The office has a library of books that can help you maximize your work efforts while minimizing the time wasted. We also have tools like the personal Kanban, and other visual tools which will help you organize what you have to get done. A personal Kanban is an organizational tool that helps you track what you need to do, are doing, and have done. You can refine this system further by color coding the notes. I personally use pink for most important, purple for the least, and blue for the rest. To bring it a step further you can add due dates to your notes to keep it better organised. This is just one of the many tools that the Office of Continuous Improvement uses on a daily basis.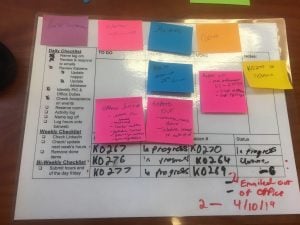 If you want to learn more about personal Kabans or other organization tools for your work please feel free to stop by. We have books available in the lean library that can help you on your Lean journey. If you want some basic organization tips, the book "How To Organize Your Office" will be a great tool. This book brings up Kabans, as well as other visual tools available to use. Another book that can be a great help on how to get started being organized could be "How to De-Junk Your Life: Keys to Taking Control, Getting Organized and Getting It All Done". These books among many others we have can help you get situated into a productive routine that can save you time. I have personally implemented parts of both of these books in my life to improve my productivity. We are located in room 136W, Wadsworth hall and you can also reach us at improvemnt@mtu.edu.