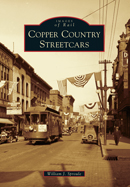 Professor Bill Sproule Explores Copper Country Streetcars: New Book Signing
Please join colleagues and community in celebrating the publication of Copper Country Streetcars (Images of Rail) on Tuesday, Oct. 1 from 4:30 to 6 p.m. in the East Reading Room of the library.
William "Bill" Sproule, professor of civil and environmental engineering, will describe how copper mining's boom period and winters with over 200 inches of snow led to the development of streetcar lines that served over six million riders at their peak in 1910.
Books, along with Dining Services' cream cake and fabulous citrus punch will be available. For further information, contact the Office of the University Librarian 7-2500 or library@mtu.edu.