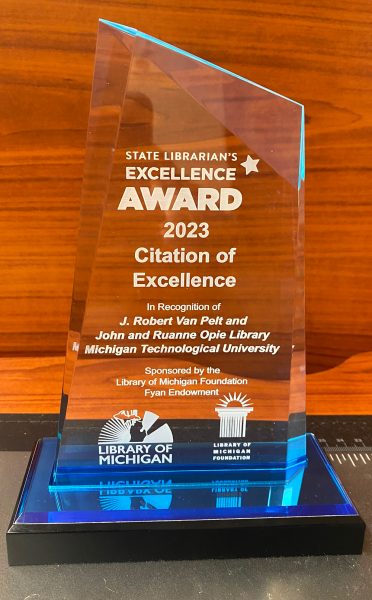 The J. Robert Van Pelt and John and Ruanne Opie Library (VPOL) employees have been awarded a 2023 Citation of Excellence for exemplifying excellence in customer service. The Library of Michigan Foundation and the Library of Michigan support this annual award, which is open to public, school, academic and special libraries across the state of Michigan.
"Good libraries help meet the needs of their users. Great libraries change communities for the better. The J. Robert Van Pelt and John and Ruanne Opie Library has become a central part of Michigan Technological University and made the Houghton and Hancock area a better place to live," said Randy Riley, Michigan's state librarian, after presenting the award.
Receiving it reaffirms the VPOL's dedication to fostering a welcoming and enriching learning environment. We are proud to share this achievement with the entire Michigan Tech community. We are especially grateful to collaborators who added letters of support that highlighted the VPOL's high level of service.
Erin Matas, library director, has been consistently supportive and celebratory since news of the citation. "I'm grateful and inspired by our library's selection for this prestigious award," said Matas. "It's a heartfelt and well-deserved acknowledgement of the efforts of our library employees and the tremendous support we receive from our local community and valued partners at Michigan Technological University. Libraries truly play a transformative role in shaping vibrant communities."
Learn more about The Michigan Library Association awards! Or more in-depth about other recipients honored with recognition.