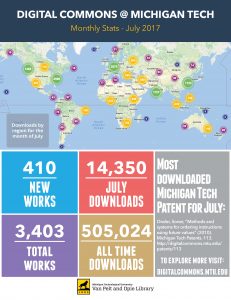 Digital Commons @ Michigan Tech isn't just a showcase for journal articles published by the campus community. The repository proudly hosts a collection of patent innovations by Michigan Tech researchers and they are accessed from locations across the globe. For example, in July an individual in Johannesburg, South Africa downloaded "Induction heating of thin films," an innovation by Paul Bergstrom of the Department of Electrical and Computer Engineering. To see where else in the world the Digital Commons @ Michigan Tech collections were accessed in July, check out the readership map.
Explore the collection of Michigan Tech patent innovations here: http://digitalcommons.mtu.edu/patents/
Digital Commons @ Michigan Tech is a service of the Van Pelt and Opie Library. To learn more about the repository and and how you can include your works visit: digitalcommons@mtu.edu.