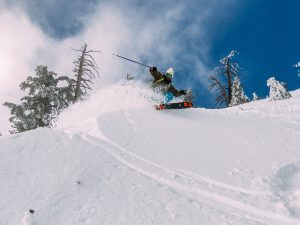 Snapperhead, an outdoor company with roots in the UP recently made national news when it was sued for trademark infringement by Backcountry.com, a major retailer of outdoor clothing and gear. Backcountry.com objected to Snapperhead's use of the name "Marquette Backcountry" for its patented ski, which CEO David Ollila invented. Both companies hold federally registered trademarks that include the word "backcountry," and Backcountry.com argued that since their trademark was issued first, Snapperhead shouldn't have been granted theirs. Facing hefty legal fees, it's not uncommon for small businesses to bend to the will of a behemoth rather than defend their intellectual property rights. However, this case took a different path. In interviews, Ollila stated that he was ready to fight Backcountry.com. After several news stories covered this lawsuit and others that Backcountry.com had filed against several small organizations, consumers took action. Outdoor enthusiasts nationwide began shaming the company on social media for playing the role of a corporate bully to small businesses and threatened boycotts. Within days, Backcountry.com backed away from the lawsuit against Snapperhead and others.
For more information on how this case unfolded, check out the following articles:
Backcountry.com sues anyone who uses its namesake. Is it bullying or just business?
Exclusive: Backcountry CEO breaks silence over trademark blowup, drops lawsuit against Marquette Backcountry Skis
And listen to an impassioned interview with Snapperhead Inventions LLC's David Ollila.
To learn more about trademarks contact the UP's only Patent and Trademark Resource Center, located in Michigan Tech's Van Pelt and Opie Library, email library@mtu.edu