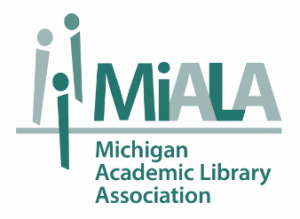 Library Lean Facilitators Annelise Doll and Laurie Stark presented at the Michigan Academic Library Association (MiALA) annual conference in East Lansing, Michigan on May 18th.
Their presentation, "Improving and Sustaining Libraries Using the Lean Philosophy", focused on how the Lean philosophy of quality and continuous improvement has been successfully applied in the Van Pelt and Opie Library.  They discussed several Lean initiatives that have assisted the library staff in standardizing complex processes and have ensured sustainability. These initiatives focused on the university's institutional repository, library communications processes and library events management.
MiALA is the professional association of academic library staff and libraries and the professional home for anyone who works in or wishes to show support for academic libraries in Michigan. This year the annual conference brought nearly 250 academic library staff together to network, share, and learn more about current library trends.