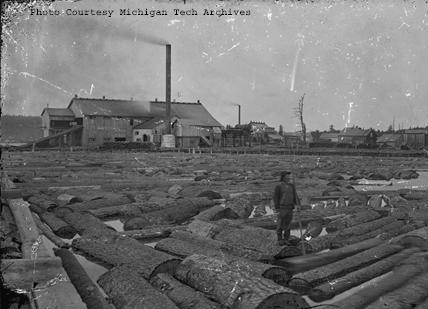 Please join us for a presentation by visiting scholar Camden Burd at 4:00 pm on Tuesday, October 14 in the East Reading Room of the Van Pelt and Opie Library on the Michigan Technological University campus. This event is free of charge and open to the public. Refreshments will be served.
In this presentation, Burd will address an environmental approach to the history of natural resource extraction in the Upper Peninsula of Michigan. Where once the Upper Peninsula was a booming industrial region, it is now a draw for vacationers to experience its sprawling forests and apparent wilderness. Between this era of environmental degradation and natural appreciation, there were disputes over the future of the U.P.'s environments. In the midst of the environmental movement of the 1960s and 1970s many voices attempted to understand, define, and direct how the Upper Peninsula would be perceived by future generations. This talk examines the different voices of the environmental movement and show the complexities behind today's UP environmental identity.
Camden Burd is a PhD student at the University of Rochester where he studies American Environmental History. He earned his MA in History from Central Michigan University and BA of History from the University of Utah. He has received numerous travel funds from Central Michigan University and was the recipient of the Grace H. Magnaghi Visiting Research Grant at Northern Michigan University to study the environmental perceptions of Michigan's Upper Peninsula. Originally from Grand Rapids, Michigan he is especially interested in the environments of the Great Lakes Region and the connection between people and place.
Burd's research visit and presentation are supported by a travel grant from the Friends of the Van Pelt Library. Since 1988, the Michigan Technological University Archives Travel Grant program has helped scholars advance their research by supporting travel to the manuscript collections at the Archives.
For more information, feel free to call the Michigan Tech Archives at 906-487-2505, email at copper@mtu.edu, or visit on the web athttp://www.lib.mtu.edu/mtuarchives/.