Due to the generosity of John (Metallurgical and Materials Engineering, 1961) and Ruanne Opie, the improvements to the Van Pelt and Opie Library's second floor have been completed and new collaborative spaces are ready for the fall semester.

Different types of moveable furniture at varying heights will enable students to find and design work spaces that best meet their needs for collaborative work. The second floor now has over 200 new seats of all different shapes, sizes and heights.

Power outlets have been added to walls, pillars, desks and chairs. These options mean that students will no longer need to leave laptops or cellphones on the ground in order to charge them, or stretch power cords from device to socket.

The 3D printer, wide format printer and wide format scanner have been moved to a centralized location which can be seen in the far right corner of this image, behind the row of Macs.

3 of the 5 double sided whiteboards added to the second floor. These boards are surrounded by movable chairs and tables that will providing the option for students to shape their own collaborative environment. Markers can be borrowed from the Library Service Center.

The old loft area, but with newly revealed functionalities: This redesigned space has four different styles of work space. Collaborative desktop computers that can seat up to three people per desk (seen in the foreground), a multi-user computer bar (back left) and booth style seating (back right). All 14 of the computers in the loft are accessible 24 hours per day, with an active HuskyCard.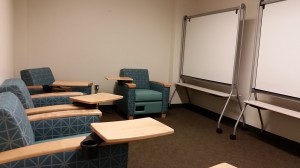 Not seen in the image above, this alcove-turned-groupwork area in the loft is home to two double sided white boards and four comfortable chairs with built in power.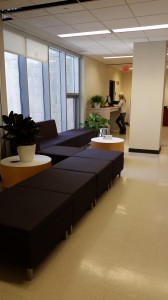 Near the Rehki bridge, the lob30.by has a new couch, a charging station and two express station computers.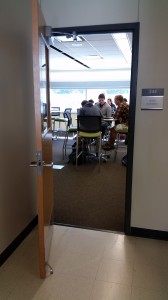 Library 244 has been transformed to an innovative library instruction space that utilizes flexible technology and furniture to provide options for various pedagogical techniques in teaching information literacy and other library instruction.