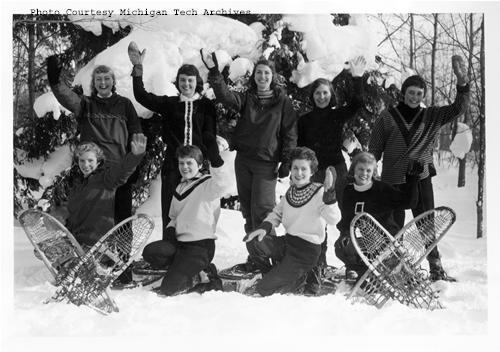 Please join us for visiting scholar David Brown at 4:00 pm on Monday, November 16 in the East Reading Room of the Van Pelt and Opie Library on the Michigan Technological University campus. This event is free of charge and open to the public. Refreshments will be served.
In this presentation, Brown will discuss his dissertation research which focuses on historical accounts of student life and the ways in which those accounts can inform scholarship and teaching in the modern era. He is especially interested in collective experiences and instances where student life has taken on distinctive character and expression, such as in the case of Michigan Tech's Winter Carnival. In addition to meaning, methodology will also be an important component of the talk. Brown will show how archival research is a valuable tool for studying college student life and provide an example of an exercise that challenges students to consider campus history and their place in it.
David Brown is a doctoral candidate in the Department of Educational Policy Studies and Evaluation at the University of Kentucky. Under the guidance of noted historian of higher education Dr. John Thelin, Brown's research focuses on historical and contemporary accounts of college student life and students' meaning-making activities during their college years. In addition to his research, he also teaches at the University of Kentucky; last year he was a recipient of one of UK's Outstanding Teaching Awards.
Brown's research visit and presentation are supported by a travel grant from the Friends of the Van Pelt Library. Since 1988, the Michigan Technological University Archives Travel Grant program has helped scholars advance their research by supporting travel to the manuscript collections at the Archives.
For more information, feel free to call the Michigan Tech Archives at 906-487-2505, email at copper@mtu.edu, or visit on the web athttp://www.lib.mtu.edu/mtuarchives/.