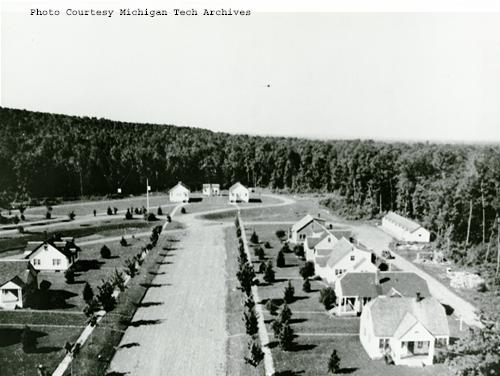 Please join us for a presentation by travel grant recipient Gordon Andrews at 4:00 pm on Thursday, November 3 in the East Reading Room of the Van Pelt and Opie Library on the Michigan Technological University campus. This event is free of charge and open to the public. Refreshments will be served.
In this presentation, Andrews will discuss unionization efforts at the Ford Motor Company's Rouge plant in Dearborn, Michigan. Ford Motor Company was the last of the "Big Three" automakers to unionize. There were serious attempts to organize beginning in the 1930s, but it was not until the workers at the Rouge plant organized a sit-down strike in 1941 that they were successful. The "Industrial Colossus on the Rouge" employed over 100,000 workers, and once organized, it became the largest local in the nation. The presentation will address the parameters of UAW Local 600's history, from its leadership role in organizing the successful unionization of Ford Motor Company, to the myriad ways in which Local 600 impacted the quality of life, and also the politics of its membership over a half-century. An integral part of that story is understanding the relationships among labor and resources from Michigan's Upper Peninsula and the way those affiliations inform what we know about the organization of Ford, especially as employees confronted a brutally oppressive system in the hopes of establishing democracy in the workplace.
Gordon P. Andrews is an associate professor in the Department of History at Grand Valley State University, Allendale, Michigan. He has taught at the secondary and post-secondary levels since 1986, and his research fields include history education, modern United States history, and 20th-century labor history. His recent publications include, Undoing Plessy: Charles Hamilton Houston, Race, Labor and the Law, 1895-1950 (Newcastle upon Tyne, London: Cambridge Scholars Press, 2014), Collaboration and the Future of Education: Preserving the Right to Teach and Think Historically, New York: Routledge, 2015, co-authored with Wilson Warren, and James Cousins.
Andrews' research visit and presentation are supported by a travel grant from the Friends of the Michigan Tech Library. Since 1988, the Michigan Tech Archives has partnered with the FMTL to help scholars advance their research by supporting travel to the manuscript collections at the archives.
For more information, feel free to call the Michigan Tech Archives at 906-487-2505, email at copper@mtu.edu, or visit on the web at http://www.lib.mtu.edu/mtuarchives/.