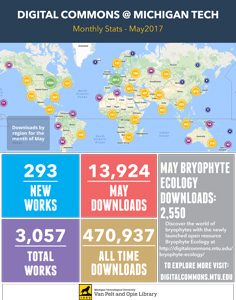 Digital Commons @ Michigan Tech saw a jump in downloads for the month of May and much of the increase in readership can be directly attributed to the launch of Bryophyte Ecology. This open work is a result of more than a decade of research, collaboration, and composition by Professor Emerita Janice Glime and many contributors and photographers. Discover the world of bryophytes at http://digitalcommons.mtu.edu/bryophyte-ecology/
To learn more about the development of Bryophyte Ecology, visit the library's blog post on the subject.
Digital Commons @ Michigan Tech, the university's digital repository, is a platform for storing, sharing and showcasing research and educational resources. To learn more or to consider adding your own work contact digitalcommons@mtu.edu.