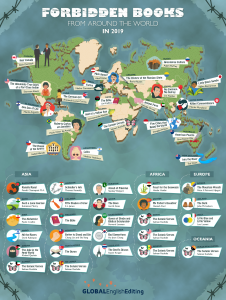 Who doesn't like reading a book deemed so dangerous it shouldn't be read?
At the end of September every year, the American Library Association and Amnesty International partner together to host Banned Books Week. They highlight books previously and currently challenged in bans across the United States.
In the spirit that people should be able to read whatever they want, the map shows nearly 50 countries with books currently banned (or were banned in the recent past). The map shows that, unfortunately, freedom of information is still being curtailed around the world.
Here is a map and in this linked article you'll find a brief description of each book and why it's too dangerous to read.