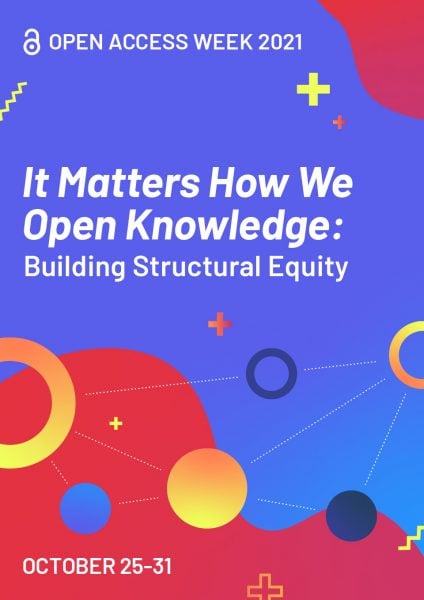 The 2021 Open Access Week Advisory Committee chose the theme "It Matters How We Open Knowledge: Building Structural Equity." OA week is October 25-31 this year and to celebrate, the library is sharing a series of posts related to this theme. Today, we share with you part of the Advisory committee's discussion of the theme itself:
"This year's theme intentionally aligns with the recently released UNESCO Recommendation on Open Science, of which Open Access is a crucial component. Circulated in draft form following discussion by representatives of UNESCO's 193 member countries, the Recommendation powerfully articulates and centers the importance of equity in pursuing a future for scholarship that is open by default.
Open Science should embrace a diversity of knowledge, practices, workflows, languages, research outputs and research topics that support the needs and epistemic pluralism of the scientific community as a whole, diverse research communities and scholars, as well as the wider public and knowledge holders beyond the traditional scientific community, including Indigenous Peoples and local communities, and social actors from different countries and regions, as appropriate. (UNESCO Recommendation on Open Science, Page 7)"
Read the entire discussion of this year's theme on the OA Week blog here: http://www.openaccessweek.org/profiles/blogs/2021-theme-announcement-english
Tomorrow we'll explore exactly what the term Open Science means and why it's important for an institution like Michigan Technological University.