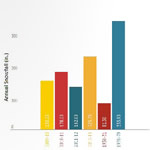 The science behind snow at Tech
According to Dr. Cantrell, associate professor of Physics and member of the Atmospheric Sciences interdepartmental PhD program, there are three reasons Tech gets so much snow.
The first reason is that it gets cold.
Read more at the Michigan Tech Lode, by Rand Silvers.