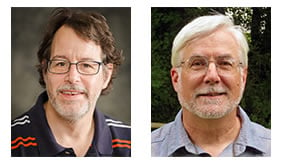 The Astronomical Society of the Pacific (ASP), one of the most innovative and respected astronomy science education organizations in the U.S., is proud to announce the recipients of its 2015 awards for excellence in astronomy research and education.
The awards will be formally presented at an ASP Awards Ceremony and Banquet on October 10, 2015 at Chabot Space and Science Center in Oakland, CA as part of ASP's Annual Meeting and Public Festival (Universe 2015).
The Klumpke-Roberts Award for outstanding contributions to public understanding and appreciation of astronomy is awarded to Dr. Robert Nemiroff (left) and Dr. Jerry Bonnell (right) for their work on the Astronomy Picture of the Day. Dr. Robert Nemiroff is a Professor in the Physics department at Michigan Technological University. He is an active researcher, teaches undergraduate and graduate physics courses, and supervises graduate students. Dr. Jerry Bonnell is a research scientist with the University of Maryland Astronomy Department on contract to the Astrophysics Science Division at NASA's Goddard Space Flight Center. They are the co-creators and co-editors of Astronomy Picture of the Day (APOD). Since 1995, they have selected and explained one image of our universe every day. Their explanations include links to additional information, deepening the educational value of the site. Each day's image and explanation are archived, forming what is one of the largest annotated archives of diverse astronomy images on the web. APOD's home site is hosted by NASA's Goddard Space Flight Center and currently gets an average of 1 million hits per day. Its three major social media sites collectively have over 2 million followers. APOD is translated into 21 languages, including Arabic, Russian, Spanish, Indonesian, and Chinese, and has mirror sites in at least 23 countries.