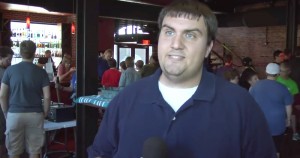 The Keweenaw Science and Engineering Festival (KSEF) is a four day event that brings learning and fun together for the whole family.
During Nerd Night, teenagers gathered at the Continental Fire Company in Houghton for hands-on activities hosted by Michigan Tech's Physics Department.
MTU Laboratory Systems Associate Scott Rutterbush says that learning about science now will give these students a leg up in the future.
Read more and listen to audio clips at The Keweenaw Report.
The Keweenaw Report is sharing a video on Facebook which includes an interview with lab associate Scott Rutterbush.
The KSEF Facebook page is sharing another Nerd Night video.
Kids have fun, also learn at Nerd Night
HOUGHTON – From static electricity to inertia, area fifth- through 12th-graders got to see scientific principles brought to life through demonstrations at Nerd Night Wednesday.
Read more at the Mining Gazette, by Garrett Neese (subscription required).
Nerds are the new cool kids in the U.P.
Laboratory Systems Associate in MTU's Physics Department Scott Rutterbush said, "The more we can expose these kids to that, the more base level of understanding they'll have and the more we, at places like Michigan Tech, can do with them when they come into our program. It's making them better engineers, making them better scientists."
Read more and watch the video at ABC 10 News, by Rick Allen.