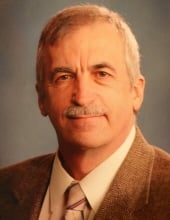 David James Lucas, loving husband, father, brother, and friend passed away Wednesday, December 16, 2015.
Dave was born August 23, 1953 in Ironwood, Michigan to the late John and Alice (Cirolini) Lucas. He married Marsha (Erickson) Lucas on June 2, 1979 in Ironwood, Michigan. Dave graduated from Luther L. Wright High School in 1971. After obtaining his Associates degree from Gogebic Community College in 1973 he completed his Bachelors degree from Michigan State University in 1975.
He earned his Master's degree at Michigan Technological University in 1977. Dave began his professional career at Eastman Kodak in Rochester, New York before returning to MTU where in 1986, he was the very first person to earn a PhD in Physics.
He took a position in the Physics Department at Northern Michigan University, becoming tenured and promoted to associate professor in 1991. During sabbatical at Argon National Laboratories, in 1992-1993, Dave was able to research and co-author a paper with a Nobel Prize winning physicist. After returning to NMU, he became full-professor in 1997, Pre-Medical/Pre-Health Professional Advisor in 1998 and head of the Physics Department in 2001 where he touched the lives of countless students while guiding their career paths. He was named a Northern Michigan University Distinguished faculty member in 2006 and an "Outstanding Alumni" from Gogebic Community College in 2013.