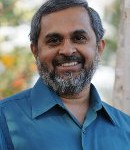 Professor Chandrashekhar Joshi has been appointed as the interim chair of the Department of Biological Sciences for the 2012-13 academic year, while the department conducts a search for a new chair.
According to Bruce Seely, dean of the College of Sciences and Arts, the college and the department are "borrowing" Joshi from the School of Forest Resources and Environmental Science for the year to insure that the department continues the progress made over the past three years in revitalizing its program of graduate education and research.
Read more at Tech Today.