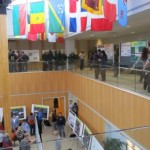 The Ecosystem Science Center and the Biotechnology Research Center announced award recipients of the Ninth Annual ESC/BRC Student Research Forum, held March 27. For the graduate students, two Grand Prize Awards and six Merit Awards were presented.
One of the Grand Prizes went to Ramkumar Mohan, a graduate student in Biological Sciences.
There were four Merit Awards to grad students in Biological Sciences: Komal K. Bollepogu Raja, Brian Danhoff, Anthony Matthys, and James Olson.
Undergraduate Jade Oritz in Biological Sciences was awarded one of the Grand Prizes for undergraduate research.
Read more at Tech Today.