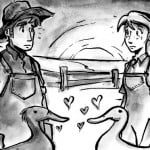 BonzAI Brawl is an all-day artificial intelligence (AI) programming competition. "The competition has grown over 50 percent this year, with about 180 contestants on 75 teams," says Jason Hiebel, a computer science graduate student and one of the organizers of this year's event.
Read more at Tech Today, by Kevin Hodur.
Have you ever had to program your video game to play it? Well, on Saturday, about 200 students did just that for the 6th Annual BonzAI Brawl at Michigan Tech University; students played a computer game about ducks all day for the competition.
Read more at the Mining Gazette, by Beth Cefalu.