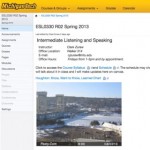 The Center for Teaching and Learning's first Creative Canvas Course Contest (C-4) saw students nominate more than 100 different courses from almost every department. In the College of Sciences and Arts, the creative faculty recognized were:
Karin Schlenker (HU3280), Lecturer, Humanities
Richelle Winkler (SS3315), Assistant Professor, Social Sciences
Brigitte Zielinksi (BL2920) Instructor, Biological Sciences
Claire Zuraw (ESL0330), Instructor, ESL
View their video course tours.
From Tech Today.